What's Cornerstone about?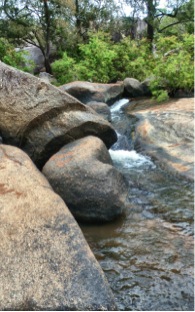 The book takes its name from a large stone slab, called 'the cornerstone' in a rock bar across the Buloke River. It is the point where four farming properties touch and where Olivia Yale, Lou Birchell and Andy Zema, from three of the properties meet… have met ever since childhood.
Olivia's father has died three years before and she is still grieving his loss. Her soft-hearted mother has taken on an occasional live-in boyfriend, the amphetamine-using Mack, who Olivia loathes. Olivia is living in a bungalow on the riverbank at the bottom of their property. Like her father, she is passionate about eradicating the invasive willows from the river. She has also noticed the encroaching growth of salt-scalds in the paddocks and, with little success, tries to describe the growing salination menace to her neighbours. Olivia is terrified that the river, like her father, will also die.
Vance McCredie is a secretive and solitary neighbour from the fourth river property. As young children, Olivia, Lou and Andy called him Mr Creepy and feared and avoided him. Vance tells Olivia his son is returning to Australia for a visit and asks Olivia, Andy and Lou to look after him, however Olivia falls in love with Vance's son, Francis, causing intense pain to Lou and Andy and stretching the bounds of friendship between the three friends.
Old family secrets begin to unfold, causing chaos for Olivia. She is already alienated from Andy and Lou, and her despair at not being able to talk to them about new and devastating events drives her into greater solitude. She is distraught at the loss of people from her life and terrified at the potential loss of Lou and Andy as well, especially as she fears that Andy has begun a relationship with the hated 'Toxic Lucy' Chivers.
Two shocking events involving Mack, shake the four families, and begin a series of significant changes which have profound effects on their lives, their future, the river and the valley that they have loved for generations.
---
Additional comments from Bron Blake
Living, as we do, on one of the driest continents on earth, I think we have a special affinity with water, especially with our rivers and oceans. Like many others, I have been concerned about the state of our rivers, the use of our water resources, and the terrible problem of dry land salination — the rising of deep water-tables and the bringing of salt to the surface. I have also been watching the regeneration of rivers near me in Central Vic, willows being ripped out and riparian native vegetation replanted. I wanted to use invasive willows and dry land salination — both potentially fatal to rivers — as an ecological background to the Cornerstone story.
The environment in which a story grows, however, is only part of the book; the other half is the people who populate the environment. They raise many questions… Who are they, what is each individual's personality, how do they sound and act? How long have they lived there, and therefore what do they all know about each other? What is every character's relationship with every other character? What are their past histories and how will this influence the story?
Writing a book with several generations in it is an intriguing exercise in brain gymnastics… (the polite way to say it!) but at the same time, can push up some great story lines.
Hint: if you are writing about families, write a genealogical tree for each family with their significant dates, otherwise you can do terrible things, like marrying a four-year-old to a twenty-year-old, or having someone fight in Vietnam at seven! Yes, OK, I did.
Another hint: sometimes when you are writing these family trees, great ideas spring to mind about possible relationships, loves and feuds, past or present… not to forget the odd secret or two. Use any idea like this to embroider your work or fire up an idea.