What's the book about?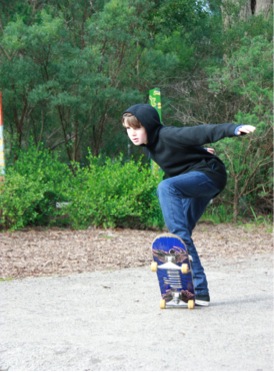 Nick Riley [15 ], and Mark Hills [11 ] are adjoining neighbours of the brutal and abusive Mr Head. Head, called Dickhead by the boys, mistreats his dog. In attempting to prevent this, Nick is beaten up by Head's two henchmen, Beale and Mad Pig Perron, and has to run leaving his skateboard behind.
Nick watches the house. When the three men leave he breaks in and after failing to find his skateboard, takes two sets of tickets for a rock concert and for the AFL Grand Final. He is caught by the police selling tickets and is taken to Head's house to verify his story. Head has been murdered.
Nick thinks he is a police suspect and while watching the Head house is shocked to see Mad Pig enter the semi-detached house next door. Nick guesses the two houses are linked.
Nick notifies the police, but is kidnapped by Beale and Mad Pig. He discovers that a friend, Zac [18] who was squatting in the house next door when Mad Pig entered, has also been kidnapped. The boys are taken to a remote farmhouse and chained in an old stable. Jonsey, a hit man, is to come from NSW and dispose of them.
Mark takes an opportunity to look around Deadhead's house and later realises that although the roof has two skylights, there are no rooms with skylights. He returns, and by some clever calculations, discovers hidden spaces, passages and criminal secrets.
Nick and Zac escape and spend three days and two nights walking south through thick bush, but finally cross a forestry track and encounter the searching police.
Comments from Bron Blake:
'Nick Riley' was my second book and great fun to write. It's fast paced and relies on the plot to gallop it along. It is set in Melbourne, but I did manage to get the bush in, by having the kidnapped boys taken to a farm-house in the country.
Because the book is driven along by the plot, you don't get much opportunity to describe your characters, so you have to rely on quick snap shots that say a lot about the person but don't interfere with the story.
I hope that when a book is fun to write, this comes through to the reader and it's also fun to read…. I had a good time doing it anyway!
Reviews of Nick Riley's Ninth Life:
Nick Riley's face pace over five chapters and changing point of view between Nick and Mark ensure the reader is never bored'
Virginia Mitchell, Balwyn High School
VATE 2002
'The engaging Crime Waves books provide the younger crime reader with all the ingredients found in adult crime novels: suspense, action and the clues to solve the mystery.'
Karen Law, Holy Spirit College, NSW
Fiction Focus, 16/2/200
'Nick Riley's Ninth Life is a great book because there were so many cool things in there. I recommend this book to anyone aged 10 to 14, who loves watching police shows…'
Kate, Year 6, Canberra ACT
YARA