What's the book about?
Joshua Cullen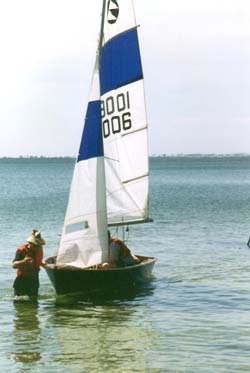 (15 yrs) is holidaying at the Gippsland Lakes, with his parents, brother Jim (7), and his American Uncle, Aunt and Cousin Zoe, (also 15). Both Joshua and Zoe are mad keen sailors, but Joshua finds Zoe's assertiveness and Americanisms hard to cope with.
One evening, while out sailing their dingy, Joshua and Zoe are becalmed, and have to tow the boat home, along the lake's edge.
They come across a motorboat on a lake beach and a campfire in the National Park. Because they are still hours away from home, and it is now dark, they decide to ask for help, but instead of assistance, find two men fighting. As they are getting away, they hear a shot fired and a utility leaving.
Zoe persuades Joshua to go back and investigate, where they see what appears to be a body in the bracken. Before they can investigate, the utility returns, and after nearly being discovered, they escape.
The parents disbelieve their story, especially after Joshua fails to find the campsite the next day. The local police are informed, but also disbelieve their story. Joshua and Zoe however, days later, find the campsite again, together with a number of bank notes ground into the sand beside the fire, but there is no sign of a body, and they are uncertain what they have seen.
However during the week, the empty motorboat is found and there are three armed hold ups in Lakes Entrance over New Year's Eve. A suspicious person tries to entice Josh's little brother, into telling him what Zoe and Joshua saw in the Park, and offers him a ride on his motorbike. Jim escapes him through luck.
The story ends some smart detective work and an exciting outcome.
Comments from Bron Blake
My family has been going to an old holiday house at Loch Sport on the Gippsland Lakes (Vic) for nearly twenty years, so it was inevitable that one of my books would be set there.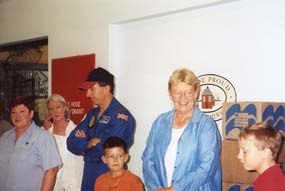 Almost everything in the book, except the murder in the National Park, is true… well almost true… most of it… nearly.
We had a great launch of this book in Sale, (Vic) and Patrick Watts, one of the aerobatic Roulettes from the Sale Air Force base did the honours. Patrick practices loops in the air over our house, so it was interesting to see him close up and realise he looked quite sensible and normal!
The thing I enjoyed most about writing 'Dangerous Waters' was making it funny, and making Zoe so bossy and scheming. That's the fun of writing. You can make your characters whatever you want, even if it's simply to entertain you!
Reviews of Dangerous Waters
'I enjoyed this book because it gave me a shiver up my spine when I read a freaky part.'
La Von Getawan
In Print. Townsville Bulletin 20/5/2003
'While checking out a fire on a beach, they suddenly find themselves in the middle of a murder investigation! Dangerous Waters is a really good read for anyone who likes mystery/crime books.'
Hanna Licence, Eppalock Primary School, Axe Creek, Vic.
Challenge Magazine, Ed.3, 2003